Does it ever seem like it's all negativity in the news these days? It can certainly seem like it. It's just more eye-catching, more memorable when something disastrous happens than when something uplifting does. To stay current on the positive happenings of one's community probably takes more effort than to do so with the negative, and so if we don't stop to appreciate the nice things once in awhile, we may forget how much of it there is.
This list is in no ways exhaustive; there were countless things to be thankful for this year. Anything not included is still worthy of celebration, and should be shared in the comments below!
In order of occurrence, here are some of our favorite positive news happenings from 2021 here in Flagler County.
On January 3rd, a severe car accident occurred on Palm Coast Parkway late at night. Not the most uplifting story in how it started, but the incident's resolution is what makes it great. A Flagler Sheriff's deputy and a good samaritan teamed up to pull an injured motorist from the wreck just before a fiery explosion which could've resulted in a fatality.
"Deputy Dalrymple and [Christina] Atwell put their own safety at risk in order to move the injured man away from the crash and a safe distance from the flames," Sheriff Rick Staly said. "In the body camera footage, you can hear an explosion from the vehicle fire just as they are pulling the man away from the crash site. Their quick and selfless actions may have helped save this injured man's life."
With the COVID-19 situation still a little touch-and-go, the Flagler community wasn't content in seeing this year's Martin Luther King Day go by without a proper celebration of the civil rights icon. Starting at Carver Recreation Center in Bunnell, dozens of vehicles participated in a motorized parade to proclaim the greatness of King's legacy.
"This year it seems to have gone countywide, which is fantastic," said organizer Blanche Valentine. "We've got a lot to celebrate. We've got inauguration coming up this weekend, and Dr. King's birthday, the community's coming together in great numbers. You can't ask for a better day. All we ask is for unity within the community."
Held at Town Center in Palm Coast, the local chapter of the NAACP gathered county residents at the end of February to commemorate and celebrate Black History Month. With a mixture of speakers and musical performers, the event brought a high turnout for a worthy cause.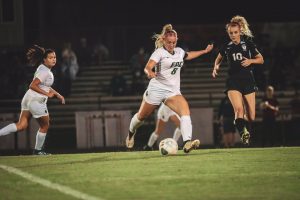 A whole separate article could be written for the athletic excellence in Flagler County's high school sports. But one highlight of the year was the selection of Gabriela Calidonio and Taylor Murphy to a prestigious women's soccer event in Lakeland later in the month of March. The community was proud to send two of its finest athletes to a stage that included soccer players from all over the state.
Don't be fooled by Florida's reputation as a mountain-less state: there are dozens of world-renowned mountain bike trails all across the Sunshine State. One of the best is Graham Swamp Mountain Bike Trail, located between Old Kings Road and Colbert Lane. In March, riders from across Florida and beyond gathered for Graham Swamp 360, a competitive race over the several-mile, rough-terrain trail.
2020 and 2021 have been touch-and-go years for the relationship between law enforcement and the communities they serve. Protests against police brutality were arguably the second defining social issue in the United States in that span, behind the COVID-19 pandemic. When Derek Chauvin was convicted in Minnesota for murder in the death of George Floyd, the vast majority of onlookers gave their acclaim to the verdict.
One such individual was Flagler Sheriff Rick Staly, who praised the verdict and the several Black Lives Matter protests which had occurred in Flagler County after Floyd's June 2020 death. "I want to again thank and commend our community for its calm and peaceful protests after this incident," said Staly. "Excessive force is never acceptable and today's verdict shows that we are a country of laws and while the criminal justice system is slow it does work and laws must be followed by everyone."
In one of the final major community events of Milissa Holland's mayorship, Holland Park was packed with attendees for the grand opening of the brand new splash pad. Though no one was likely to be more excited than the kids, any avid consumer of Palm Coast amenities was excited when the water jets came on that first time.
"Through the hard work, dedication, and collaboration of city staff on this project, our community now has an amazing park to make lifelong memories in," said Citizen Engagement head Lauren Johnston. "My own son has the biggest smile on his face when playing in the playground and splash pad. I feel so fortunate to share these experiences with my family and to live, work, and play in this amazing community."
Any city is only as strong as the number of citizens who are actively engaged in it. Here in Palm Coast, those numbers are nothing but encouraging. Fifteen Palm Coast residents graduated the Citizens Academy in early June, shown here at their ceremony at City Hall. The Citizens Academy provides members of the Palm Coast community a chance to learn the inner workings of their government, allowing them to participate from a more educated standpoint and become more informed stewards and voters going forward.
One thing Flagler County has made itself known for: it comes together for its own. Organizers Abbey Cooke, Eryn Harris, and Artie Gardella were instrumental in a candlelight vigil on the five-year anniversary of the Pulse Nightclub shooting Orlando, a tragedy which rocked central Florida to its core.
Leaders from local churches, government, activist groups, and art collectives came together to send the unifying message to Flagler County that you're a valued member of the community no matter who you are or who you love. Amidst the continued prevalence of anti-LGBTQ+ attacks and hate crimes in the United States, it's a sentiment that very much bears repeating.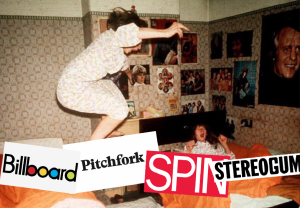 One of the most under-the-radar benefits of living in Flagler County is the incredibly robust local arts scene put up by the county's youth. This year was a massive breakout for Home is Where, a Palm Coast-forged emo band who cut their teeth in house shows and small festivals in and around Palm Coast. The band's 2021 album 'I Became Birds' has accumulated over one million Spotify streams and has earned them features in Billboard, Pitchfork, SPIN, Stereogum, and a litany of other major music sites. We're quite proud of them!
All we can hope for is to have this much fun in our golden years. Residents of Tuscan Gardens retirement home were treated to a visit by Dude the horse, a special guest with quite the long face. Dude, a 26 year-old horse, met Tuscan Gardens residents up to 99 years old in his June 13th excursion.
"We come down here, my husband opened up a business, the Tropical Turf Team, and I work with him," said trainer Candy Thompson. "We've been building our business and I thought this community has been an awesome home, so what better way to give back?"
Though the actual implementation is still a work in progress, the outpouring of support for a Shirley Chisholm memorial was a cause for celebration here in Flagler County. Chisholm, who passed away in 2005, was a trailblazer in American politics. In addition to being the first black woman ever elected to Congress, Chisholm was also the first black candidate for a major party's presidential nomination, and the first woman to run for the Democratic presidential nomination.
Efforts spearheaded by the Democratic Women's Club of Flagler seek to install a memorial to Chisholm somewhere in Flagler County, where she spent the last years of her life. One popular idea: a plaque at one of Palm Coast's numerous walking trails, similar to one in place for the late FCSO sergeant Frank Celico.
In what started as a scary development as it was unfolding, the heroism of the Flagler Sheriff's Office and multiple other agencies resulted in saving the life of a troubled juvenile who was close to leaping from an I-95 overpass. What's more, a multi-agency team of female law enforcement officers were ultimately the ones to save the girl, providing a personalized and empathetic response.
"I commend all the men and women who stepped up for this child's life today," said Sheriff Rick Staly. "Someone's daughter was saved on Father's Day, and I hope she receives the help she needs."
Call Flagler County most anything you want, but you can't call it unpatriotic. The day before Independence Day, the local airport was absolutely packed with locals for Freedom Fest, a widely organized get-together that celebrates the things that make our community and country great. From the dozens of stunning airplanes displayed on the runways to booths from all sorts of local businesses and programs, there was easily hours of entertainment and camaraderie in store for all who attended.
21 year-old Deputy Cameron Punsky gets to stake his claim to the most adorable headline in the whole year of 2021. This July, Punsky was responsible for rescuing a ridiculously cute baby deer from the garage door of a C-section residence after its mother was found deceased nearby.
Punsky chose to retrieve the deer from its hiding place after weighing the dangers of it being so close to a garage door. The baby was turned over to a local rehabilitation specialist after its rescue.
Hopefully you didn't sleep in too late on September 4th, because if you did you likely missed all the good cleanup spots! From the annual waterway cleanup's kickoff early that Saturday morning to its conclusion early in the afternoon, over 250 residents took to their community to rid the environment of manmade trash and pollutants. One participant, Karolyn Whitney, won a stuffed sawfish as reward for finding the most unique piece of trash: a gas mask! The endangered smalltooth sawfish was used as a mascot for the cleanup, and can be found in waterways like ours throughout Florida.
The folks with the Palm Coast Arts Foundation outdid themselves with this free concert and celebration of the arts. The Old Kings Elementary School drumline, Coastal Florida Police & Fire Pipes & Drums, and Top Flight U.S. Air Force Band brought a dynamic and wildly engaging show for the many attendees who pulled up a lawn chair that evening. And of course, the hard work of Flagler Auditorium director Amelia Fulmer was paramount to the complete success that the event wound up being.
One of the finest features of Palm Coast is its extensive green space, and so it's not surprising that the city's residents showed up in droves for the Town Center Arbor Day festival this September. With everything from petting zoos to tree giveaways to a kid train ride, those who attended got more than their money's worth! Well, only figuratively speaking of course; the event was free of charge. The main event was the releasing of dozens upon dozens of monarch butterflies to join our city's green ecosystem!
October 9th and November 13th/14th: Two Major Surf Competitions Take Place in Flagler Beach
Between the Florida Board Riders Club regional contest and the 20th annual Tommy Tant Memorial Surf Classic, Flagler surf culture made an empowered rebound in 2021. Both contests drew competitors from all over the state of Florida, and showcased some of the best competitive circuit you'd find on American shores. The waves were fantastic for both events, and even those who didn't paddle out got a prime opportunity engage and get to know other members of their beach community.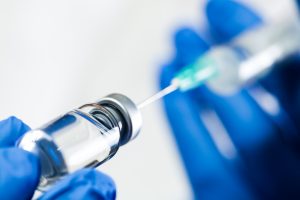 An all-year triumph, Flagler took big steps toward a permanent return to normalcy when it turned out in droves to receive one of several available COVID-19 vaccines. About 60.3% of Flagler residents are fully vaccinated according to data from Covid ActNow, and 68.7% have received at least one dose.
The people who've gone out and gotten their vaccines deserve credit for their stewardship of their community, and even more reverence is in order for the health and public safety workers who've worked unfathomably hard and put their wellbeing on the line to serve their community since the start of the pandemic. We wouldn't be where we are today without our frontline healthcare workers, and for that, the community stands grateful.
The hard work of the Palm Coast Fire Department helped the 20th annual Hall of Terror haunted house event one of the best yet. Constructed and organized by the PCFD themselves, the Hall of Terror was assembled at Fire Station 21 to give kids a safe and fun haunted house experience here in Palm Coast. The idea was first created in 2000 by now-Chief Jerry Forte and Lieutenant Richard Cline. 2020 was the first year that didn't have a Hall of Terror due to COVID-19 concerns, but this year was a successful comeback. Over 3,100 attended on Halloween night and the day was later declared 'Hall of Terror Day' at a City Council meeting by Councilman Victor Barbosa.
After Matanzas High School student Caleb Struble suffered a freak injury training for the Flagler Beach junior lifeguard program, the sadness of his predicament has been matched in spades by the inspiring support his school and community have provided. One such occurrence was this past month, when MHS students got together to hold a car wash to benefit Struble's recovery fund. Taking place near AutoZone off Palm Coast Parkway, the dozen-or-so students who participated played a valuable role in helping Caleb work back to the normal life he deserves.
Click here to donate to Caleb Struble's recovery fund.
Another example of athletic excellence in Flagler, former FPCHS football player Marquise Gilbert committed to Auburn University in a December 13th Twitter announcement. Gilbert is one of the top rated prospects in the nation out of junior college; he played one partial season for Bethune-Cookman University following his FPC graduation. He was courted by an entire laundry list of credible schools before deciding it was his destiny to be a Tiger.
---
AskFlagler thanks YOU the community for making our first full calendar year covering the county to be one for the ages.