A lot of people are running for Palm Coast City Council right now. Three open seats have drawn eight candidates total, in addition to two others who were eliminated in the August primaries.
The District 1 seat opened up when Robert Cuff decided not to run for reelection. The race drew Democrat Sims Jones and Republicans Ed Danko and Lou Salvagio, but only Jones and Danko advanced to the general election on Tuesday. In District 2, there's a four-way race happening between David Alfin, Victor Barbosa, Bob Coffman and Dennis McDonald. None of these candidates appeared in the August primaries because the race is a special election; councilman Jack Howell resigned in July due to health issues, and these four candidates are vying for the chance to finish out his term. For the District 3 seat, incumbent Republican Nick Klufas is running for reelection against Cornelia Downing Manfre. The two advanced from a primary race that also included small business owner Zack Shapiro.
District 1
Who are the candidates?
Ed Danko, the Republican candidate for the seat, is a former network news producer and U.S. Navy veteran. Danko describes himself as "the conservative choice" in his race, and he makes his support for Donald Trump as well-known as possible. The Danko campaign has seen some high-profile endorsements in 2020, including Oliver North and Corey Lewandowski, as well as some local officials like George Burden and Janet McDonald. Since moving to Palm Coast, Danko has taken up a director role in the Flagler County Trump Club, and continues to serve as an officer in the U.S. Coast Guard Auxiliary.
Sims Jones, Danko's Democratic opponent, is a local pastor and community activist, as well as a former New York City firefighter. Jones ran for the District 1 seat in 2016, but was unsuccessful. Before running for office, Jones drew attention primarily through his charity work in the community. Throughout his campaign, Jones has emphasized his advocacy for no new tax increases, better environments for businesses, and transparency in government.
Why will Ed Danko win?
Being a Republican in Flagler County gets you a long way. Often times, one would have to actively misstep for the (R) next to their name to not seal their victory. For the most part, Danko has been effective in energizing his Republican voters to turn out on Election Day, especially through coalitions with Alan Lowe and Victor Barbosa. Republicans do turn out for their candidates, and there are more Republicans than Democrats in Flagler County by the thousands. Furthermore, Danko has treated Facebook like the networking gold mine that it is, while Jones has been relatively scarce on social media. Whether the voters Danko needs to hit are there on Facebook or not is still to be seen, but having a heavy online presence can't not help.
Why will Sims Jones win?
Jones is less controversial than the unapologetic Danko, and would therefore be less likely to alienate voters. Most Democrats wouldn't have an obvious reason not to vote for Jones, while Danko polarizes himself very starkly amidst a rifting community of Flagler Republicans. Furthermore, independents or open-minded Republicans may take to Jones' pastorship or charity work. And on his own side of the aisle, Jones has received the full support of a growing coalition of young Democrats, appearing at roundtable Q&As and roadside sign-waving rallies. Even if he isn't able to win over as many new voters as Danko, Jones may very well succeed by simply shedding less of them.
AskFlagler Forecasted Results:
Ed Danko (R): 49.0%
Sims Jones (D): 51.0%
District 2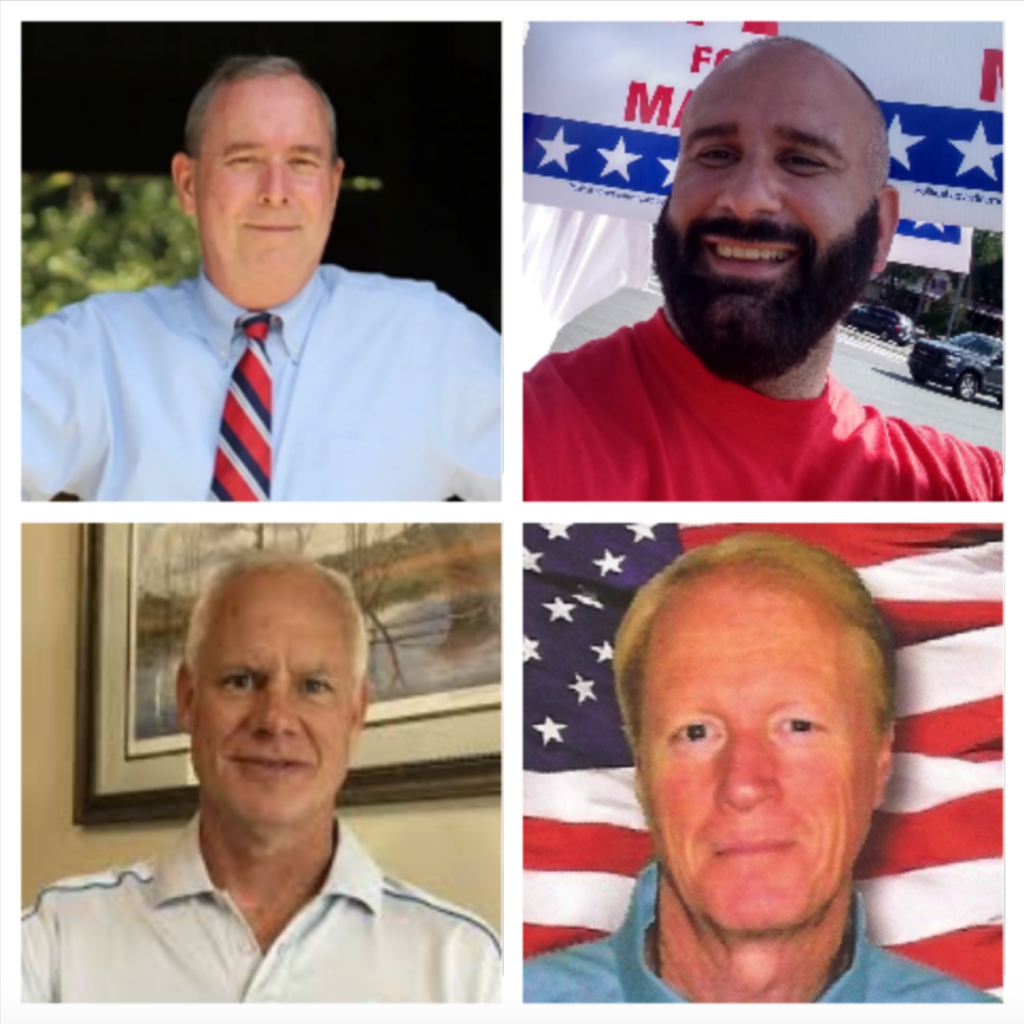 Who are the candidates?
David Alfin is a Palm Coast-based real estate agent. You may know Alfin from seeing his signs alongside those of fellow candidate Cornelia Downing Manfre around town, but his message is somewhat distinct from Manfre's. Alfin makes a point of highlighting his opposition of tax increases, attracting jobs, and promoting safety in his campaign platform.
Victor Barbosa is the owner of Man Cave Barber Lounge, a local men's cuts and shaves business. Barbosa has been quite open about his support for President Trump, and has joined with Ed Danko and Alan Lowe to try and ride the momentum from Trump's Flagler support to local office victories.
Bob Coffman is the former president of the Palm Coast Democratic Club, and a retired military and airline pilot. Coffman also ran for U.S. Congress in the Democratic primary two years ago, but ultimately dropped out in March of 2018 before any elections were held. Coffman is the lone Democratic candidate in the District 2 City Council race.
Dennis McDonald is a retiree and self-described pragmatist who's run for City Council and Florida State Senate in the past. McDonald is husband to Flagler School Board chairwoman Janet McDonald. In recent years McDonald has been involved in multiple legal and ethics cases moving all the way up to the state level, fines for which have varied at different times from $500 to $70,000.
Why will David Alfin win?
Alfin is generally well-liked in the community, and real estate agents tend to be campaign-savvy. He's also leaned heavy on campaign signs, and by teaming up with Manfre, he stands to gain a good portion of her voters from the District 3 race. In addition, Alfin has picked up endorsements from Travis Hutson, Paul Renner, Dave Sullivan, the Palm Coast Observer, and Joe Mullins. With perhaps the most well-rounded of the Republican campaigns, Alfin is a solid bet to take the win tomorrow.
Why will Victor Barbosa win?
Despite a strong showing from Alfin, Barbosa probably has the most dense campaign sign presence of the four candidates. People know who Barbosa is, and when they go to investigate, Barbosa makes it very clear where he stands on the issues. Of the four choices, none have made such an effort to court Trump voters, nor to reach for Republican voters in other races. While Alfin, Coffman, and McDonald are somewhat scarce presences on social media, Barbosa is constantly active on Facebook, rallying followers and stoking turnout. He may have a low floor due to the strength of competition, but Barbosa also has a very high ceiling.
Why will Bob Coffman win?
Simple: he's the only Democrat. Alfin, Barbosa, and McDonald are all competing for similar voter blocks, but Coffman has the Democratic minority all to himself. Though it is possible we'll see Alfin cut into the blue vote a bit, it won't have nearly the effect on Coffman that the red trio have on each other. And Coffman isn't just the token Democrat either; the former pilot is an articulate speaker who hasn't had many gaffes over his multiple runs for office. Coffman isn't just acceptable to voters, he's likeable.
Why will Dennis McDonald win?
The McDonalds are one of the more well-known political families in Palm Coast, and this'll be McDonald's first time running since his wife Janet was elected to School Board in 2018. If the success of one spouse really does boost the other, then McDonald should have his best results yet. McDonald is also perhaps the only candidate that will benefit from lack of press instead of suffering; there are certainly recent skeletons in Dennis' closet and he's done a good job of keeping them out of the public discussion. If you're a voter that knows you don't like Alfin or Barbosa, but you're still committed to voting red, you'd likely vote McDonald.
AskFlagler Forecasted Results:
David Alfin (R): 32.0%
Victor Barbosa (R): 21.0%
Bob Coffman (D): 35.0%
Dennis McDonald (R): 12.0%
District 3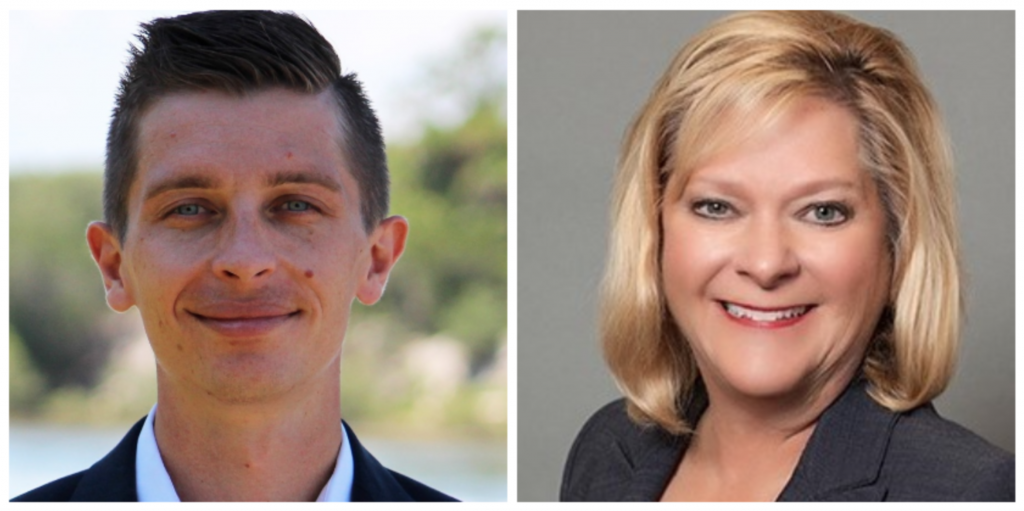 Who are the candidates?
Nick Klufas is a senior development engineer and one of the youngest elected officials in Flagler County. Klufas is the incumbent city councilman, and is marked by his enthusiasm for FiberNET and electric transportation. In addition to his role as councilman, Klufas also serves as the Vice Mayor of Palm Coast under Milissa Holland, who's also up for reelection. Klufas is the Republican candidate for the seat.
Cornelia Downing Manfre is a real estate agent with Watson Realty Corp and the Democratic candidate for the District 3 seat. Manfre is half of another political power-family in Flagler County, her husband being former Flagler Sheriff Jim Manfre. Like other candidates this year, Manfre is running a campaign centered around economic development, caps on tax increases, and raising quality of life in Palm Coast.
Why will Nick Klufas win?
Klufas is the incumbent candidate and the Republican candidate, a strong combination for Flagler electability. Despite being closely tied to Mayor Milissa Holland and therefore making inroads with her voters, Klufas hasn't been much of a target for the Lowe/Danko/Barbosa crowd. Most seem to be accepting of him at worst, and he'll likely still be included by all-red voters. Klufas is young, charismatic, and does a good job selling himself as a candidate with a vision.
Why will Cornelia Downing Manfre win?
Good name recognition, and the strength of an organizing local Democratic party. And while Klufas is mostly uncontroversial, he's not without his detractors. Former mayoral candidate Michael Schottey expressed sharp criticism of Klufas last month, and there may be legions more voters who share those sentiments. Manfre herself is a competent campaigner, has a good PR strategy, and possesses a good understanding of what voters in Palm Coast typically go for. Her winning would be an upset, but not that big of an upset.
AskFlagler Forecasted Results:
Nick Klufas (R): 64.0%
Cornelia Downing Manfre (D): 36.0%