The Florida Department of Health in Flagler County has resources for COVID-19 testing and vaccination.
The Latest Data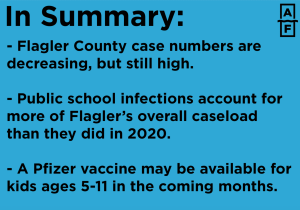 Flagler County's COVID caseload is trending down, according to the most recent data from the Centers for Disease Control and the New York Times. Flagler reached a pandemic high on August 31st, when the new daily caseload ballooned up to 134. Before the onset of the Delta variant, Flagler's highest one-day total had been 66.
ADVERTISEMENT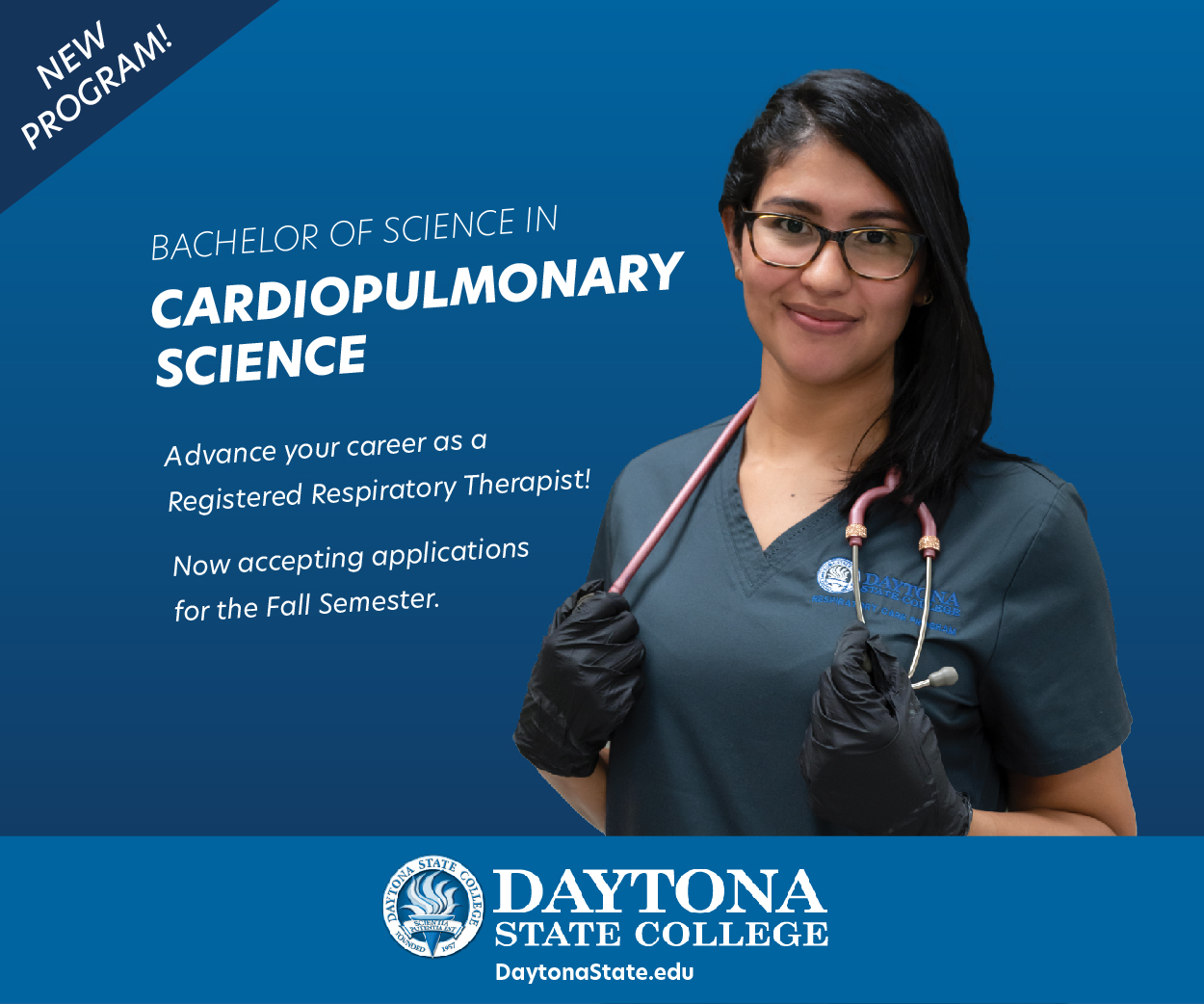 The smoothest period during the pandemic for Flagler County was June of this year, when new cases each day were in the single digits. The combination of then-steadily increasing vaccination rates and the less contagious original COVID-19 strain lead to the pandemic being rendered almost impotent locally for a time. As the highly contagious Delta variants took hold in July and August however, Flagler was suddenly being hit harder than it had been at any time up to that point.
Read More: Fate Of Commercial Vehicles To Be Decided On September 21st At Palm Coast City Hall
New cases in recent weeks have consisted in large part by infections from Flagler's public schools. As of the end of this past school week, Flagler Schools reported 1,135 infections among students and faculty. It was an increase from the previous week's total of 1,048, but not as sharp of one as has been documented in other week-to-week intervals.
72,646 Flagler County residents have received at least one dose of a COVID-19 vaccine, with 63,340 reported as fully vaccinated according to the CDC. In percentages, 63.1% have at least one dose and 55.0% are fully vaccinated. The rate at which residents are becoming newly vaccinated is stagnating, with only 445 new doses being administered last week. The continuous decline in rate of vaccination is attributable to vaccine hesitancy, whether due to valid health concerns, apathy, or outright misinformation.
Flagler (And the World) At a Glance
On an alert level of Low-Moderate-Substantial-High, all 67 counties in the state of Florida are designated High by the CDC. The same can be said for Georgia and Alabama, Florida's two neighbors to the north.
Flagler now averages 58 cases a day, down almost 50% from two weeks ago. At AdventHealth Palm Coast, the largest hospital in Flagler County, 53 patients are admitted with COVID-19, and the ICU is 73% capacity. Six ICU beds are available as of the most recent reports, whether for COVID-19 or any variety of other crises. Mask usage indoors is still recommended both for the unvaccinated and fully vaccinated, as transmission of COVID-19 is possible for those of any vaccination status. Breakthrough cases are also a factor in the present state of the virus, though deaths in these cases are exceedingly rare.
TalkFlagler Weekly News Update with Danielle Anderson
Unvaccinated individuals are eleven times more likely to die as a result of a Delta variant infection than vaccinated individuals. The unvaccinated are ten times more likely to be hospitalized and five times more likely to be infected. In data from John Hopkins University, the overall infection-to-fatality rate from the entire COVID-19 pandemic is 1.7%. Mortality rates are increased by co-morbidities such as obesity, old age, and being unvaccinated.
A study published in August by The Lancet Infectious Diseases which examined 40,000 cases in England concluded that the unvaccinated are twice as likely to be hospitalized by the Delta variant. The Department of Health in Flagler County is currently giving testing priority to students and faculty from Flagler Schools where applicable.
Vaccinations for Kids?
The Associated Press reported Monday that Pfizer is seeking approval in the United States to administer its COVID vaccine to children ages 5-11, where the previous low age cutoff has been 12. "I think we really hit the sweet spot," said Pfizer senior vice president Dr. Bill Gruber. The Food & Drug Administration, who are chiefly responsible for issuing distribution approvals to vaccine manufacturers, said this month that it hopes to have an evaluation done within weeks. If it passes, a widespread spike in vaccination rates could be seen as the shots are administered to children who've been previously unapproved to receive them.
Dr. Jesse Goodman, a professor at Georgetown University and former FDA chief, says of Pfizer's progress: "These topline results are very good news." He characterized the level of immune response in the vaccine as "appear[ing] likely to be protective" for children aged 5-11.
Hitting Home
Several icons of the local community have had encounters with COVID-19 or since the onset of the pandemic. County Commissioner Joe Mullins recently shared his experience testing positive for a second time. Palm Coast City Council member Victor Barbosa was hospitalized at the Mayo Clinic in July after his case led to a bout of pneumonia, and and fellow Councilman Ed Danko recently attended a meeting virtually from quarantine, though he maintained he himself had not contracted the virus.
Read More: Due To COVID Spike, Flagler Beach Police Department Will Hold Annual Trunk-Or-Treat As A Drive-Thru
Among those who passed away from their COVID fights: then-FPCHS principal James T. Russell, and former Palm Coast Mayor and Councilman Jon Netts. The Flagler Sheriff's Office recently lost detention deputy Paul Luciano to the virus. In higher government, Flagler's congressional representative, Michael Waltz, tested positive for COVID in November of 202o.