Palm Coast Observer
On July 1st, Observer publisher John Walsh made his endorsement in the Palm Coast mayoral election. Walsh has long made endorsements in local races, and continued this tradition by selecting David Alfin as his candidate of choice. "Alfin understands the fine balance between preserving our quality of life and making investments in our infrastructure through quality development projects," Walsh said in his endorsement.
According to the Lowe camp, however, Walsh's support of Alfin's mayoral campaign goes back further. In new accusations levied against the publisher by Lowe and friend/campaign adviser Ed Danko, Walsh had contacted both of them separately, offering full support in getting Lowe elected to the District 2 seat on the City Council. Lowe had previously announced his bid for the seat after current occupant Victor Barbosa declared a run for Flagler County Commission next year. Walsh would support Lowe for Barbosa's seat, Lowe and Danko say he told them, but should Lowe run for Mayor instead, he would assure that Lowe wound up with nothing. A video published by Lowe to YouTube details how he says the encounter went:
ADVERTISEMENT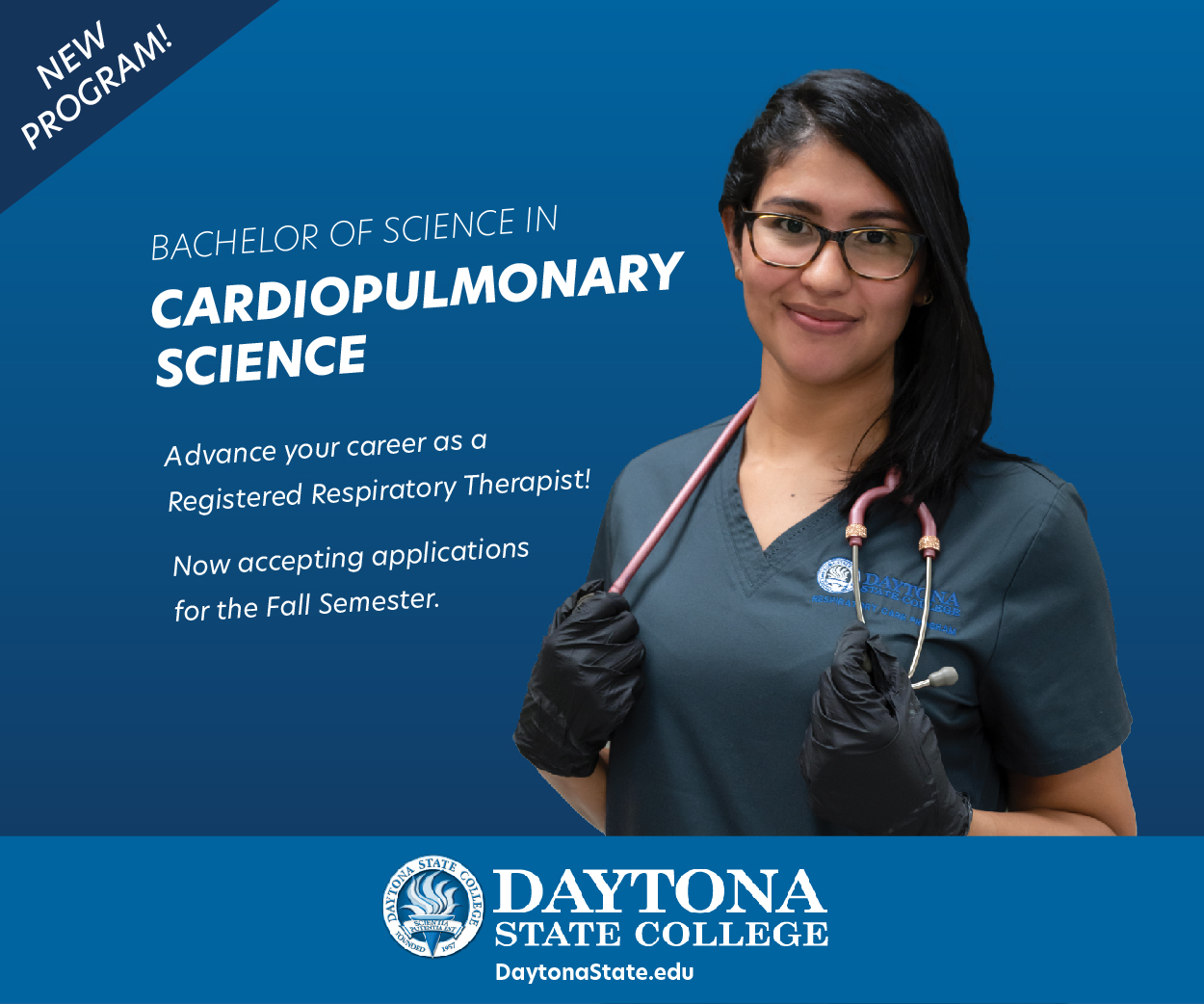 Following the purported incident, the Lowe campaign declined to participate in interviews with the Observer, as well as FlaglerLive. In his endorsement of Alfin, Walsh recounted a conversation he'd had trying to set up the interview with Lowe: "I personally asked Alan Lowe to participate three times. The final request was after a recent meeting where he and Palm Coast City Councilman Ed Danko attended together. Lowe refused to answer my request directly. Instead, he deferred the question to Danko, who replied, 'John, we're the front runner; why would we want to participate?'"
In light of Lowe and Danko's accusations against him coming out, Walsh was to-the-point in his response: "Alan Lowe claims I said for him to end his campaign and that I threatened him are not true. It is true that I endorsed David Alfin in the 2021 Special Election for Mayor of Palm Coast. I have no further comments."
Code Enforcement – Campaign Signs
It happens every election year. As quickly as the roads around Flagler County can fill up with campaign signs both big and small, regulations start getting enforced, and campaigns at times have a bone to pick about it. Last year the theme was vandalism: with some of the polarizing candidates ever to appear on a Flagler ballot, tensions were high and some felt the need to deface the signs of a candidate they didn't care for. That, or the signs would get stolen outright.
The constant here is, candidates feel a strong urgency to get their name in as many residents' minds as they can, and anything that gets in the way of that can be more than a little frustrating. The latest instance of this arises from Alan Lowe's second and current mayoral campaign, in which supporters claim Palm Coast code enforcement is upholding its sign regulations unfairly.
"Code enforcement sent a letter [on June 21st] that they would be removing the ones in violation in 7 days," Lowe said. "I moved all the ones of mine that were in violation but nobody else has. The violation was mostly distance from edge of the road."
The email did in fact tell candidates, "this is a courtesy reminder and to please remove these signs within 7 days." Below are a few examples cited in the email, asking candidates to make modifications. The message was sent to the campaigns of Lowe, David Alfin, and Cornelia Downing Manfre. Other candidates were not observed to have had issues at the time the email was sent.
In the buildup to last year's election, then-candidate and present Council member Victor Barbosa expressed his ire with the process leading to the removal of campaign signs. "It's the mayor having code enforcement picking up our signs and throwing them away," Barbosa told AskFlagler last year, referring to then-Mayor Milissa Holland. "Years ago they would put them behind public works building, and you could go there and pick them up. It's sad because it cost a lot of money for them. Another thing is other parties putting their signs in front of yours so people get confused what party you're affiliated with."
In the email, the City tells candidates numbers representing the distance from the roadside that signs should be, varying by the road. Some of the distances presented:
27 ft from Belle Terre Pkwy by Tractor Supply Co
22 ft from Old Kings Rd southbound and 29 ft from Old Kings Rd northbound (in the same place on the road)
64 ft from E Moody Blvd by Shiny Shell Car Wash
39 ft from Publix of Town Center
67 ft from Palm Coast Pkwy and Florida Park Dr
42 ft from Old Kings Rd and Town Center Blvd
The City of Palm Coast's municipal code does make mention of political campaign signs, with listed numbers. They do not, however, match the figures given to Lowe, Alfin, and Manfre.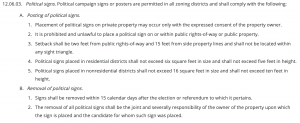 According to Lowe, he wasn't aware the numbers from the email weren't part of written code, and so he moved his signs accordingly before he found out. Alfin and Manfre, he says, still haven't.
---
The special election for Palm Coast Mayor will be held on July 27th at the following locations:
Flagler County Supervisor of Elections Office – Government Services Building, 1769 E. Moody Boulevard, Building 2, Suite 101, Bunnell, Florida, 32110
Palm Coast Community Center, 305 Palm Coast Parkway NE, Palm Coast, Florida, 32137
Flagler County Library, 2500 Palm Coast Parkway NW, Palm Coast, Florida, 32137
Early voting will take place from July 17th to July 24th, from 10:00 am to 6:00 pm. The candidates are Democrats Doug Courtney and Cornelia Downing Manfre, along with Republicans David Alfin, Kathy Austrino, Carol "Mother Elizabeth" Bacha, and Alan Lowe.