A handful of new laws will take effect in the state of Florida Thursday, the headliners being a minimum wage increase and changes to state law regarding smoking and vaping.
Minimum Wage Increase
Get ready to see headlines of a minimum wage increase this time each year for the near future: starting this week, Florida's state minimum wage will increase by one dollar per year until it reaches $15 an hour in 2026. The increase was voted on in November of last year, when 60.82% of Florida voters cast their ballots in favor of the increase (39.18% were against).
According to Ballotpedia, $6,270,488.78 in contributions were spent advocating for Amendment 2, the measure which contained the wage bump. Comparatively, only $698,165.88 was spent to counter the amendment, making the efforts to oppose Amendment 2 the least funded of any for-or-against effort pertaining to any of the six proposed amendments.
TalkFlagler Weekly News Update: Episode 11 With Annamaria Long
According to the Massachusetts Institute of Technology (MIT), a living wage (defined as "the hourly rate that an individual in a household must earn to support his or herself and their family") for one single adult in Flagler County is $14.42 an hour. The calculation goes up by over double with the addition of one child. Florida's minimum wage prior to this week's change has been $8.65.
In Flagler County alone, Amendment 2 held only a slightly smaller majority: 58.56% of voters favored the increase, or 39,355 in raw numbers. 41.44% opposed it, or 27,848 voters.
Florida joins 23 other states that are going to or have already increased their minimum wage in 2021. The wage already increased from $8.56 an hour to $8.65 earlier this year, making this the second time wages have upped in 2021 alone.
Florida will become the 21st state in the union to reach the $10 an hour minimum wage threshold. As a state, Florida's cost-of-living index is 25th in the union, according to calculations by World Population Review.
Read More: Palm Coast's Arbor Day Celebration Draws An Enthusiastic Crowd
For tipped workers, minimum wage will increase from $5.63 to $6.98. There will then be a one dollar yearly increase along with the standard minimum wage, and tipped workers will make $11.98 at minimum in 2026.
Florida's minimum wage in 2000 was $5.15 an hour, equivalent to $8.35 in August 2021 dollars.
Raising the State Smoking Age & Ending Local Regulations
The Tobacco and Nicotine Products bill was introduced in state legislature by Travis Hutson, Flagler County's representative in the State Senate. First filed on February 4th of this year, CS/CS/SB 1080 passed several hurdles before being signed into law:
March 9th: cleared the Regulated Industries Committee with a 9-0 vote.
March 24th: cleared the Health Policy Committee with an 8-0 vote.
April 16th: cleared the Rules Committee with an 11-5 vote.
April 26th: passed in the Florida State Senate by a 29-9 vote.
April 28th: passed in the Florida State House of Representative by a 103-13 vote.
May 7th: approved by Governor Ron DeSantis.
The bill saw support from both sides of the aisle in the Senate, with Republicans favoring it 22-2 and Democrats 9-7. In the State House the bill received even broader support. Of the 13 who voted against CS/CS/SB 1080, twelve were Republicans and one was a Democrat. Opposition of the bill was largely based on a provision that would take away the ability of local governments to regulate the marketing and sale of tobacco products.
In December of 2019, then-President Trump signed off on an amendment to the Federal Food, Drug, and Cosmetic Act, raising the minimum age for tobacco sales from 18 to 21. In September of last year Governor DeSantis vetoed an effort to raise the smoking age to 21 and ban all flavored tobacco products in Florida, saying the ban would drive consumers "to the hazardous black market" and characterizing the state age increase as a redundancy.
Read More: Effort To Repeal Palm Coast's Commercial Vehicle Policy Fails By 3-2 Vote
With the minimum smoking and vaping age having already been raised federally, the most impactful change in this new law is end of several local-level regulations of the sale of tobacco and e-cigarette products. Flagler County's municipal code has a number of policies which may come into jeopardy because of Hutson's legislation: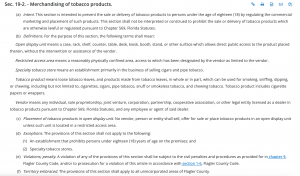 So while the the state-level raising of the minimum purchasing age is a symbolic win for those working to curb the role of tobacco in society, the local regulations effect will likely be a more potent driver of change, consolidating the focus of tobacco lobbyists to just one target: the state legislature. The full text of the new law can be read here.
Other Laws Taking Effect
SB 82 – "Sponsorship Identification Disclaimers"
This bill means all text messages from political advertisers have to have a disclaimer that identifies that it is an advertisement. Exceptions include if texts aren't being sent by mass distribution by people who aren't getting paid or if people opted into the alerts.
SB 252 – "Child Care Facilities"
This bill creates the "Child Safety Alarm Act," which requires that starting on Jan. 1, 2022, all vehicles used by child care facilities to transport kids must have an alarm system that tells drivers to check for kids before leaving the vehicle. This is mean to decrease the number of deaths of small children who are left in vehicles during hot weather months.
SB 890 – "Use of Electronic Databases"
Requires that law enforcement officers only use VIN and personal identification databases while on duty, for job-related purposes.
SB 80 – "Child Welfare"
Amends child welfare laws, changing out-of-home care and changes policies for those about to age out of the system.
SB 676 – "Special and Specialty License Plates"
Changes DMV requirements for specialty license plates. Plates for independent colleges are discontinued and replaced with new plates for health care workers, disease awareness/prevention, state parks, marine life, military, and the nonprofit Honor Flight.
HB 921 – "Electronic Crimes"
Prohibits the an electronic message which could be interpreted as a threat to kill, cause bodily harm, or commit a mass shooting or act of terrorism.
HB 1059 – "Construction Permits"
Changes Florida Building Codes Act, and the way law enforcement will enforce the building codes.
HB 1523 – "Corporate Espionage"
The bill creates the "Combatting Corporate Espionage in Florida Act," with changes the severity of the trafficking trade secrets to foreign groups.
Further cracks down on illegally trafficking trade secrets to foreign groups, and creates the "Combatting Corporate Espionage in Florida Act."