"Fear and Loathing: The type of anger and distrust generated when politicians or representatives of the American legal hierarchy (i.e. District Attorneys) clash, or disagree, with the people they are paid to represent, causing a threat to the people." (Dictionary definition)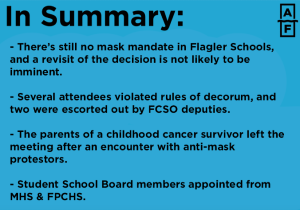 Those who were looking for a repeat of the August 17th School Board Meeting more or less got their wish at this past Tuesday's meeting. The September 21st affair echoed its predecessor in many ways: out-of-turn exclamations from the crowd, law enforcement playing an active role, and the Board all leaving the room at one point. The firebrand issue was, once again, the merits of a mask mandate on Flagler Schools.
Of course, there is one key difference between the proceedings of Tuesday night and the circumstances alluded to in the 'fear and loathing' definition above. Where in that example it's the disagreement of elected officials with their constituents that poses a threat, at this meeting it was the constituents themselves.
A handful of remarks were made during public comments that were characterized as physical threats to the Board. One told the Board to 'mess around and find out'. A reference was made by another speaker of 'good people ready to do bad things', and the speaker was immediately confronted and escorted from the room by Flagler Sheriff's deputies. He, along with a number of other attendees, came representing the Flagler Liberty Coalition, a right-wing activist group which pulls no punches in its objection to any and all mask mandates.
Another attendee was a man from another county, who assured the School Board that soon, it would be time to bear arms. This man, who identified himself as a Baptist preacher, was also escorted from the room by law enforcement later in the meeting after shouting down Colleen Conklin toward the end of the meeting.
These two could likely claim plausible deniability, that they were merely making a statement and speaking figuratively. But it's the sort of language that got the attention of FCSO deputies, who weren't eager set the precedent that it was fair game.
The two public comments sections of the meeting, which combined for well over two hours, didn't only cover the topic of mask mandates. The final tally of issues addressed (broadly attempting to identify one dominant theme of each speaker):
Against mask mandate: 20 speakers
For mask mandate: 6 speakers
Commentary about meeting decorum: 6 speakers
Online learning issues: 2 speakers
Call to dismiss Kristy Gavin: 1 speaker
School bus issues: 1 speaker
Hire motivational speakers: 1 speaker
Private school resources: 1 speaker
What's interesting about the sheer volume of commenters concerned with mask mandates, is that the issue wasn't even on the meeting agenda Tuesday night. It had been formally voted on at the last meeting; those against the mandate got their way by a 3-2 decision. But discourse surrounding the issue never really slowed down on social media, and so it was still just as vital a concern at this meeting as it was over a month ago.
In closing comments, Board member Cheryl Massaro attempted to ease the minds of those who were concerned about that last decision being overturned. "It's not gonna happen," Massaro told the crowd (most of the more disruptive attendees had already left the chambers by this point). Though Massaro did vote with Conklin in favor of a mask mandate at the last meeting, she stressed that in her mind, the issue had been settled for better or worse.
Perhaps the most frustrating job to have Tuesday night would've been that of Trevor Tucker, Chairman of the School Board. Tucker was tasked with maintaining decorum as part of his duties as Chair, and doing so was no easy task. Tucker repeatedly warned attendees not to clap, cheer, heckle, or exclaim out of turn during the meeting. Each one of these happened numerous times, in complete disregard for Tucker's requests.
Read More: Cautious Optimism: Flagler's COVID Caseload Is Trending Downward
A particularly heated exchange between the Board and the crowd happened as the aforementioned Flagler Liberty Coalition member was being ejected by deputies. Colleen Conklin spoke out of turn in an attempt to respond to the man, to which the crowd erupted with jeers and berating. The Board all stood up and walked to the back room behind the dais, where they'd for the neighborhood of ten minutes.
Though there was a whole agenda to get through that was completely unrelated to mask issues of any kind, mask anger bled over into those items as well.
Item 3.02 on the evening was a spotlight for Childhood Cancer Awareness Month. Several families with children who'd been affected by cancer had planned on coming to the meeting for this part. However, one mother described her experience with the anti-mandate group on Facebook:
"My heart is heavy tonight. September is Childhood Cancer Awareness Month and a proclamation was supposed to be read at the school board meeting this evening. Many of the families and children affected by childhood cancer in our County planned to attend. Unfortunately due to the volatile nature of the crowd, it was decided that this was not an appropriate environment for our children and we withdrew our participation. My son was diagnosed with cancer at three and has suffered through three and a half years of chemotherapy. Today when my husband arrived at the school board meeting with my son, a man said to them, 'look at this child abuse,' because my son was wearing a mask. I'm sickened that my sweet boy had to hear that. No matter what side of the issue you are on, there is no excuse for this behavior."
Studies have shown that cancer survivors are generally more susceptible to the symptoms of COVID-19. But attendees of the meeting by and large couldn't agree on even a single fact about the virus. Seemingly everything that is known about the pandemic – whether masks are effective, the safety of vaccines, the risks of contracting COVID-19 – was called into question at some point by some speaker.
So ultimately the status of mask mandates was not changed for Flagler Schools. And as Cheryl Massaro pointed out, it won't change unless it's placed on a meeting agenda, which it's not currently likely to be.
In more positive news from the meeting, representatives from Matanzas High School and Flagler Palm Coast High School were appointed Student School Board members, ushered in by each of their respective principals. MHS's Karissa Jackson and FPCHS's Kaylee Briggs took their seats at the dais early on in the meeting, to the unifying applause of all in attendance.
The two were silent during the more turbulent parts of the meeting, though they were entitled the right to pipe up had they wanted to. One man, who identified himself as coming from some continent that'd been taken over by socialism and radical Islam, spent much of his remarks speaking pointedly to the two girls.
Still, amidst a stressful and at times scary situation, Briggs and Jackson were solid. Briggs spoke against the perceived threats made by those select few speakers, identifying it as outside the rights enumerated by the First Amendment. Jackson used her time to call on her fellow students to join the decision-making process by coming to meetings themselves.
In the face of what could only be described as fear and loathing, the two students representing the future of Flagler County showed poise and leadership well in excess of several of their elders.