PALM COAST – 45 year-old Michael Blum was arrested in Palm Coast last week in connection to an apparent explosive device that was set off in the F Section. The incident in question occurred in a swale around the corner of Fernwood Lane and Fleetwood Drive.
Blum was on probation at the time of his arrest, having been charged with fentanyl possession, carrying a firearm unlicensed, and burglary in September 2021. He now sports three new charges: violation of parole and resisting an officer non-violently (both misdemeanors) and making an explosive device (a felony).
ADVERTISEMENT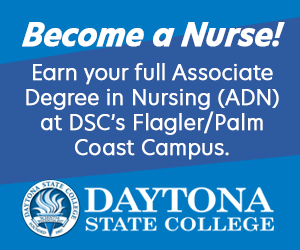 The Flagler County Sheriff's Office was called on Friday about what sounded like an explosion in the F Section. The caller is said to have witnessed someone leaving the area in a white box truck, according to the FCSO's report. Along with the FCSO, responders included the St. Johns County Sheriff's Office bomb squad, FBI, and ATF.
Deputies used security footage in the surrounding neighborhood to identify Blum as a suspect, and eventually tracked his vehicle to a nearby apartment complex. The vehicle was said to have been somewhat hidden. Upon making contact with Blum and speaking to him briefly, he was placed under arrest.
The following day, the FCSO's Homeland Security Section's Criminal Intelligence Unit obtained a search warrant for the vehicle, and returned to execute it. Further evidence is said to have been obtained linking Blum to the explosives.
Prior to this latest incident, the FCSO says they've responded to Blum's residence over 25 times, most of which regarding firework complaints. "Based on the evidence and his actions this guy is a wannabe bomber," said Sheriff Rick Staly. "I commend our team for quickly identifying a vehicle and suspect and quickly working with the FBI and the St. Johns County Sheriff's Office Bomb Squad to quickly arrest this guy before he could hurt someone. I also thank the community for sharing with us their home security and ring camera footage, which greatly assisted our detectives in solving this case quickly."