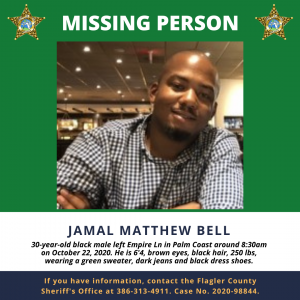 The FCSO Communications Section sent a teletype to authorities in the Atlanta area asking them to attempt to locate Mr. Bell and to conduct a welfare check. Authorities with the East Point Police Department successfully made contact with Mr. Bell and advised that he was of sound mind and body and that he was there willingly. Detective Butler made contact with Mr. Bell's family to update them on his status.
"We're pleased to learn that Mr. Bell is safe and is no longer missing," Sheriff Rick Staly said. "Our detectives did a great job in following this case and we thank the East Point Police Department in helping to locate him."
Detectives are continuing to investigate the case of missing Palm Coast juvenile, Xandar Garrett, who is still believed to be out of state. Anyone with information regarding the whereabouts of Xander Garrett is asked to call (386) 313-4911 or email
tips@flaglersheriff.com
.