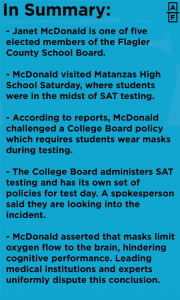 According to recent reports, Flagler School Board member Janet McDonald walked into Matanzas High School the morning of AP exams Saturday morning as students were preparing to take the difficult tests. She was said to have talked to coordinators and proctors of the tests, telling them students were not required to wear masks.
Contrary to what McDonald says she believed was true, mask-wearing during Advanced Placement exams is a procedural requirement by the College Board, which facilitates the tests. Her instructions are in contrast to this national policy. Some sources reported that McDonald's instructions were upheld when brought to the attention of Assistant Superintendent Robert Bossardet.
The incident came to local attention when Rogue Flagler Schools, an activism Twitter account run anonymously, posted messages they'd received from those closely familiar with what'd happened. They tagged School Board members and local news sources in their tweets, which began to spread through word of mouth before being officially confirmed.
Things on social media eventually got going enough for the College Board to make an official response. The organization told user Steve Dorries, "We are monitoring this issue. If you have any information you want to share, please share it here", and provided a link for those involved to report firsthand knowledge of what happened.
We are monitoring this issue. If you have any information you want to share, please share it here: https://t.co/7lyOrmC3Mp

— The College Board (@CollegeBoard) December 4, 2021
When the story broke on Saturday morning, the school district's offices were closed for the weekend. Key personnel like Robert Bossardet, Superintendent Cathy Mittelstadt, and MHS Principal Jeff Reaves were unavailable for official comment. McDonald herself was later reached via email. According to her account of things, she had been told by Flagler Schools administration that masks would be optional.
According to a source which shared with Rogue Flagler Schools, Reaves opted to follow College Board policies, and did what he could do to try and assure they were followed.
Though some reports initially stated McDonald had instructed students directly to take off the mask, McDonald denies this assertion. "I made very few comments to students directly," McDonald told AskFlagler. "Only when eye contact was made by them, in the nature of wishing them 'best success.'" Still, according to Corrine Schaefer, the College Board's assistant coordinator for the test session, many students heard McDonald's comments to coordinators anyway. In comments given to the Palm Coast Observer, Schaefer estimated that 70%-80% of students did not wear masks, because of what they'd heard from McDonald.
She said that in speaking to exam proctors, she likened mask requirements for these students to mask requirements for school athletes in comparably high-leverage situations; her opinion was that they shouldn't be required then and therefore shouldn't be required for the SATs. Of course, Flagler Schools does not require masks to be worn by students in schools. But where a policy doesn't exist at the school district level, one does exist with the College Board, who facilitate the test.
While the School Board voted against having a mask mandate, it did not take action to ban other mask mandates from on-campus activities. At the time of the vote, the difference between those two concepts would've likely seemed trivial. But it ultimately allowed for a situation like this: Flagler Schools has no mandate on its students. The School Board took no action to prevent the College Board's own mask mandate from applying, and it's not immediately clear whether they would've had the legal standing to do so. The College Board is a national organization, so the relevance of state laws against mask mandates is also open to interpretation pending input from legal experts.
McDonald provided her opinion on this issue in her comments: "I have not seen any [College Board] contracts, yet have asked for them. Policies are not contracts, and I believe our state and [Flagler Schools'] choice policy trumps any vendor with a nationwide policy. It certainly begs the question of 'why?' This has been an issue for the last two years, in spite of advance communication with district administrators for students in need, and is a HIPPA violation, if I say more."
The HIPAA Act which McDonald refers to is the Health Insurance Portability and Accountability Act. A common misconception is that HIPAA legally prohibits individuals from being asked by policies to disclose medical information about themselves. What HIPPA actually ensures is that healthcare providers and businesses cannot disclose their patient's confidential medical information to anyone but the patient and their designated authorized representatives without the consent of the patient. The law, which was signed by President Bill Clinton in 1996, has no legal relevance to mask mandates or vaccine mandates.
The School Board will meet on Tuesday for a workshop meeting at 3:00 pm in Room 3 at the Government Services Building. The legality and/or efficacy of McDonald's actions are likely to come up in discussion, whether from other Board members, public commenters, or both. The public is entitled to a three-minute speaking slot to address Board members about any issue they want, and few meetings go by in which multiple people do not choose to exercise this right.
McDonald also denied categorizations that she'd interrupted testing, and she was adamant she left Matanzas High School as test sessions began. "I was there as the students were being checked in," she said. "I left as the proctors entered the rooms and closed the doors."
More will be added to this story or subsequent stories as the events continue to develop.
UPDATE 12/9/2021 1:45pm: According to district spokesperson Jason Wheeler, assistant superintendent Robert Bossardet was not physically present on the morning of testing, and only facilitated maskless testing for one student who'd had prior arrangements to do so.