It's the swan song of a local legend – albeit one you may not have heard of. Flagler County Flight Operations Chief Dana Morris is preparing to retire on November 13th after a helicopter career spanning more than four decades. His Flagler County career started about halfway through that period, bringing him from California to Florida.
"Our history together goes back further than the 20 years each of us have been here," Morris said in a statement prepared by the county. "I was working for the company that sold the county FireFlight, assigned to firefighting and as a search-and-rescue pilot in Yosemite." Throughout his career, Morris has flown helicopters over the Grand Canyon, in New Guinea, Australia, Burma (now Myanmar), Yemen, and much of the western U.S. and Alaska.
ADVERTISEMENT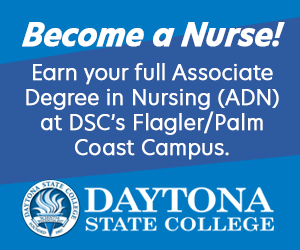 Flagler County purchasing FireFlight was a direct response to the devastating 1998 wildfires that led to the evacuation of the entirety of Flagler County. 71 homes were lost in those fires, with 175 more damaged. Between then and the present day, not one single additional occupied home has been lost to wildfire. Since making his trip east, Morris has ingrained himself as a legend of public safety. So what conclusions can be drawn after such a long tenure of service in one place? Growth means adaptation.
"Flagler County was, and still is, growing," Morris said. "Though its primary mission is fire suppression, FireFlight, of course, is equipped for medical flights and to assist law enforcement. It's equipped with an infrared camera for use during nighttime operations."
In the statement, Morris described rescuing a lost hunter almost 20 years ago: "He was lost in the woods in an area where it would be difficult to get to him with an ambulance," he said. "It was nighttime, dark, and the hunter was able to position the phone so we could see it. Between that and the reflection off his clothing, we were able to get right to him. We loaded him up and went straight to the hospital."
The county provided the following statistics for FireFlight from 2002 through to September 2021, also accounting for fellow pilot Todd Whaley:
Total Flights (Trips) – 5,786

EMS – 718
Reconnaissance – 2,142
Fire Suppression – 720
Law Enforcement – 613
Maintenance Flights – 177
Search and Rescue – 259
Training – 749
Community Service – 408

Total Flights Hours – 4,285.2

EMS – 415.5
Reconnaissance – 1,462.0
Fire Suppression – 885.6
Law Enforcement – 465.5
Maintenance Flights – 107.0
Search and Rescue – 190.2
Training – 584.3
Community Service – 211.1

Gallons of Water/Foam Dropped – 1,817,159
EMS Transport Revenue – $2,934,967
The whole of Flagler County undoubtedly owes a great thanks to Morris for his years of excellence in service, promoting public safety and stewarding a balance between green space and security from fire and other disasters. With 12,500 flight hours logged, the time has finally come to bid farewell. "This has been a great job and I have had the pleasure of working with a lot of talented people," Morris finished. "It's been a memorable and great ride."