There was no shortage of celebration at The Flagler County Native American Festival this weekend, held annually at Princess Place Preserve. As many as 50 distinct tribes were present to enjoy the festivities, and thousands of attendees from all over the world came to see various weapons demonstrations, wildlife exhibits, storytelling, trading booths, encampment setups, traditional performances, and displays.
Every year on the last weekend of February, the festival welcomes audiences well into the thousands to celebrate and learn about Native American culture. The event is organized by Flagler County Parks and Recreation in tandem with Jim Sawgrass, a native Floridian of Muscogee Creek descent and living historian of the southeastern tribes of Florida, Georgia, and Alabama.
ADVERTISEMENT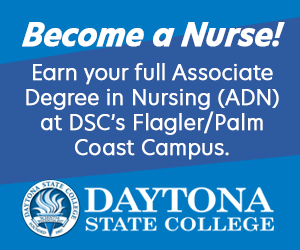 "This is a cultural event, it's about the history of this land that a lot of people don't know much about at all," Sawgrass said. "One of the things our festival does is not just have dancing and entertainment like that, but we have shows that teach and educate and have historians, storytellers… It's very important to teach our history. If we don't, people will forget it, and that's not good."
Among the booths at the festival were medicinal vendors offering natural and organic herbal remedies, healing salves, and sacred herbs. Artists and craftsmen offered beautiful woodwork, paintings, beadwork, jewelry, and clothing.
"All of our vendors are native vendors representing different tribes," Sawgrass said. "Some of them are adopted, some of them are people that grew up in the culture. But most of them are native or have native connections somehow."
There was an entire section of the foods and beverages you would often find at a fair, but one of the more popular food vendors served Native American fry bread: a savory flatbread fried in oil, handmade fresh by Aunt Martha.
A running theme throughout the event was wildlife preservation, where in multiple booths you could get up close and personal with horses, miniature ponies, snakes, tarantulas, scorpions, monitors, and a baby alligator. It's easy to see why the event is held at Princess Place Preserve, a mecca of biodiversity.
"You can look everywhere and, pretty much, you don't see a whole lot of development except for a little bit across the bay there, Matanzas Bay, Marineland, and some other structures," Sawgrass said. "It's like being back in nature, even though there's the log cabin that was built there. The deer herds come in, the eagles are there, the porpoises, dolphins. You see them chasing the redfish and other fish, it's a really neat location."
As for the future of the festival, Sawgrass is already in planning mode just days after this year's event. The Pow Wow will be held next year on Feb. 24th and 25th at Princess Place Preserve.
"One of the things we would like to do next year is bring in a group from Panama, a Native American dance group from down in South America in the jungles. Bring them up on tour here to Florida to a couple of different events," Sawgrass said. "We're going to add lots more to the event as it goes on. Make it bigger and better every year."
Sawgrass noted his appreciation for the Flagler County Tourism Development Council as a major help in highlighting this event as a local must, as well as various other sponsors that have donated to the event. He also thanked Frank Barbuti from the Flagler County Parks and Recreation Department, the original coordinator of the Pow Wow.
"It's very grueling setting up and tearing down," Sawgrass said. "Oh my gosh, I'm exhausted. But it's so satisfying to see happy faces. And when the shows are happening, when we're honoring the veterans, when we bring in the eagle's staff and all the dancers at one time with the grand entry, those are priceless things that you'll never get back again. The feelings will never come again in that way until you get back there again and do it again next time."
For more information about this annual event, visit www.flaglercounty.gov or jimsawgrass.com.