UPDATE 6:53 pm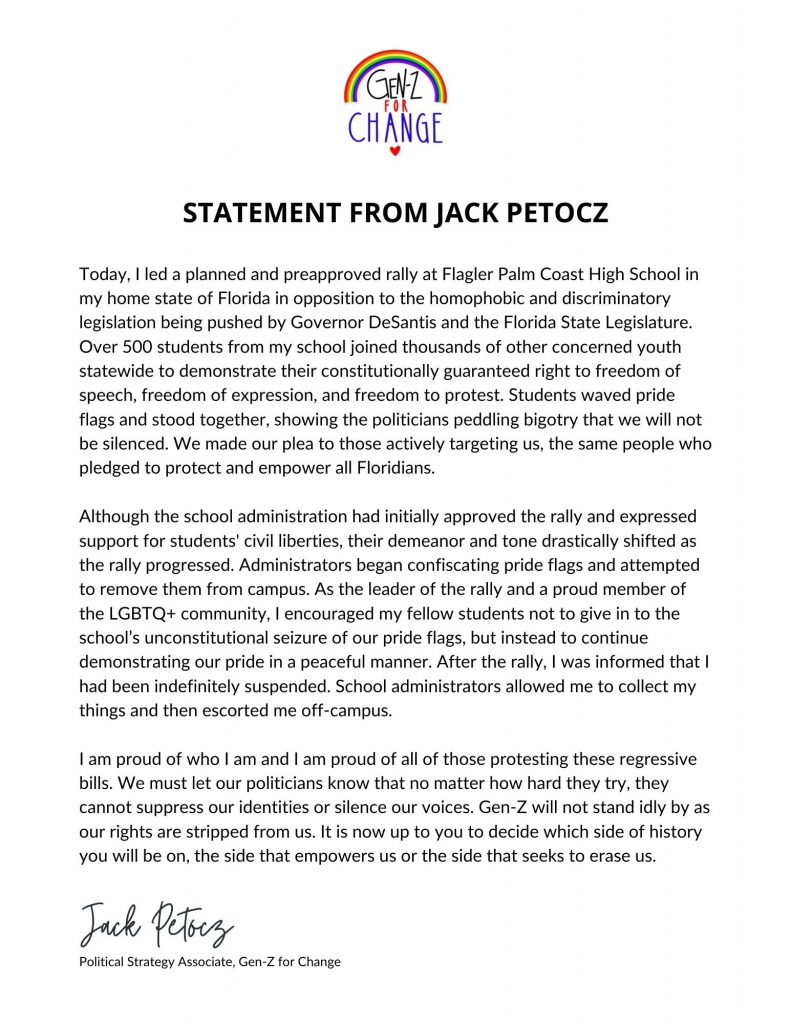 UPDATE 5:34 pm: Petocz's suspension is on an indefinite timeline, pending investigation.
UPDATE 5:03 pm: Staff also told students with a 'Trump 2020: No More Bullshit' flag to put it away in accordance to the same policy in which they told students to put away Pride flags.
UPDATE 4:34 pm: #StandWithJack is receiving national attention on Twitter, with widely known LGBTQ+ activists such as Charlotte Clymer and Brandon Wolf sharing their support for Petocz.
UPDATE 4:25 pm: The Flagler Schools policy which was cited as the reason for confiscation of Pride flags bans "possession of prohibited items: possession of any item not required for school/educational lessons."
UPDATE 4:20 pm: Flagler Schools spokesman Jason Wheeler commented on the altercation between students described toward the bottom of this article: "That is currently being investigated by the school administration. Any offenses will be handled according to our Student Code of Conduct."
UPDATE 4:12 pm: Flagler Schools spokesman Jason Wheeler has disputed incoming reports from students that faculty are confiscating the Pride flags handed out by Petocz at FPCHS. "Students were asked to refrain from displaying flags. which are prohibited items in our Code of Student Conduct. They were simply asked to put them away."
PALM COAST – Flagler Palm Coast High School has suspended 17 year-old Jack Petocz, the student leader and organizer who planned the Thursday morning walkout in protest of Florida's DeSantis-backed 'Don't Say Gay' bill. Principal Greg Schwartz had engaged in multiple discussions with Petocz ahead of the event, resulting in certain parameters being placed and the event time being changed.
It was ultimately Petocz's decision to hand out LGBTQ+ Pride flags to students that resulted in his suspension, FlaglerLive reports. The school had attempted to tone down what it perceived as political rhetoric for the event, and determined that the Pride flag fell within the boundaries of what constitutes 'political'.
---
Read More: FPCHS Students Moving Forward With 'Don't Say Gay' Walkout Despite Threats Of Discipline
---
For Petocz, the event was a success regardless of disciplinary action. He expressed a flippancy for potential consequences in the days leading up to the event, demonstrated in part by his decision to plan and advertise the walkout without consulting administration.
Petocz and others speculate that the presence of School Board member Janet McDonald at the school both before and the day of the walkout may have resulted in Principal Schwartz tightening the restrictions. McDonald and Petocz have a documented history of disagreements, most notably when then-Chair McDonald ended Petocz's comments in a School Board meeting because of a perceived rules violation pertaining to referencing specific Board members.
The 'Don't Say Gay' bill is officially named the Parental Rights in Education bill, and aims to bar most all discussion of sexual orientation in primary grade levels in the state of Florida. The bill received its rhyming nickname after it invoked the widespread chagrin of the LGBTQ+ community, who see it as an erasure of their history and a codified assertion that gay issues are explicit in nature.
The evolving conversations between Petocz and Schwartz were, in Petocz's judgment, not entirely in good faith. "There was some pushback from the district," he said, "specifically under the guise of security concerns that worried me, and I thought that they might be trying to discourage students from coming."
On Thursday morning at the start of second period, Petocz stood on a bench at the FPCHS football field and track with a megaphone, rallying the crowd of 500 or so students who'd come out to participate. Schwartz and administration reportedly told Petocz to ditch the megaphone more than once, and then to start wrapping up the event. Petocz didn't give in.
There was at least one clash between LGBTQ+ demonstrators and counter-demonstrators reportedly bearing Trump merchandise. An Instagram story shared by one student depicted an altercation between herself and three students. It's not entirely clear what transpired in the incident, but after a brief confrontation of words it was evident the two groups began physically fighting. One of them said to the filming student, "take my flag one more f–king time" before the punching began.
Multiple accounts reported the counter-protester was the first to engage in a physical altercation, but that the attacked student was the only one taken to the dean's office. Principal Schwartz was said to have told staff not to participate in the event, leading to a lack of school personnel on-hand to intervene in potential safety issues.
As of now, a petition rallying for the overturning of Petocz's out-of-school suspension is at over 200 signatures within an hour of being posted.