Written by: Ava Hanner, Flagler County Sheriff's Office Public Affairs Officer
Sheriff Rick Staly was the guest speaker at this year's Volusia/Flagler Law Enforcement Memorial on Friday morning at the Daytona Memorial Park in Daytona Beach. The Sheriff was joined by Flagler County Sheriff's Office (FCSO) Chief David Williams, who gave "A Hero's Welcome" speech, prayer, and benediction to honor the fallen members of law enforcement that died while serving both counties. The event is hosted annually by the Volusia-Flagler Police Chiefs Association.
ADVERTISEMENT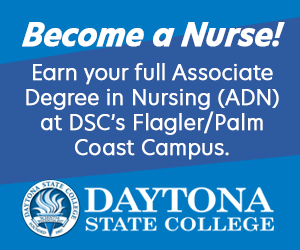 The event featured several key speakers and salutes, including a musical ensemble by the Coastal Florida Police & Fire Pipes & Drums, a three-volley rifle salute by the Volusia County Honor Guard, and a helicopter flyover by the Volusia Sheriff's Office.
"The men and women who protect our communities each and every day have not just devoted their lives to public service, they've taken an oath to give up their lives to ensure our safety," Sheriff Rick Staly said. "This past year 246 extraordinary law enforcement officers answered such a call and sadly lost their life while serving their communities across the United States. When faced with danger, these men and women ran toward danger instead of away from it. 10 of those fallen heroes in 2022 were from Florida."
At the memorial service local law enforcement officers and their families paid tribute and remembered the 36 Volusia and Flagler County's fallen heroes and the two fallen K-9s that also died serving their community. Please join us in remembering the following fallen heroes in Volusia and Flagler counties: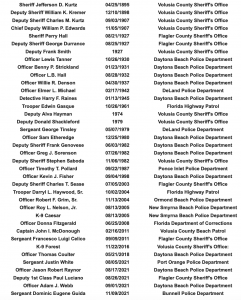 In 1962, President Kennedy proclaimed May 15th as National Peace Officers Memorial Day and the calendar week in which May 15 falls, as National Police Week. Established by a joint resolution of Congress in 1962, National Police Week pays special recognition to those law enforcement officers who have lost their lives in the line of duty for the safety and protection of others.